Interested in Local History?
If you would like more information on local history including events, museums, background information and resources, you may like to subscribe to a FREE quarterly magazine put out by the Illinois State Museum.
This colorful publication, entitled The Living Museum, packs information on the many historical monuments, museums, and sites available to you around our state. It also includes information on current exhibits at various museums so you can plan them into your schedule.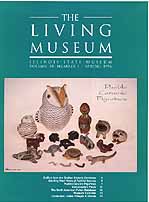 For more information about this publication, or to subscribe, check out the Illinois State Museum website, or email them at: subscriptions@museum.state.il.us