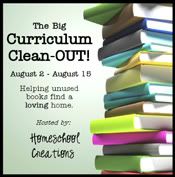 Got some curriculum you would like to bless another homeschool family with?
Would you like to win some gently used, new-to-you homeschool books?
Then, I have found the bl0g event for you . . .
Jolanthe, over at Homeschool Creations (a fellow CREW member), is hosting a Curriculum Cleanout Giveaway the beginning of August.
Read her site for all the details, but basically she is asking homeschoolers to look through their shelves and come up with a new or gently used item to give away the first couple weeks of August (the second through fifteenth). You can post about it on your blog or just leave a comment with an email address for people to enter to win your giveaway.
You are responsible for shipping costs on any books you give away.
Any one can enter to win, so be sure to check out her site in a couple weeks and see if someone might be giving away something you have been wanting to own. You just might get it for free!
Head on over and check it out. Get your goodies together to giveaway, and get ready for entering some drawings for homeschool books and curriculum.