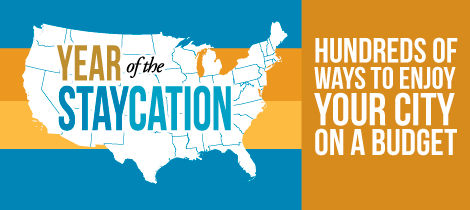 Two years ago I posted my first Chicago staycation post and have really enjoyed revisiting this theme each May highlighting some of the limitless opportunities in the Chicago area for a family on a budget.
Since I could never attempt to represent all of the amazing outings available, each year I try to uncover something new.
If you have missed earlier posts:
– The first year I posted in fives (5 genres, 5 favorites, 5 free trips, etc.)
– The second year centered around activities geared to help you Get Active; Grow 'n' Learn; and Give Back.
While those posts easily gave you enough fuel for conversation around the family campfire and fun from June through August, I want to make sure you don't overlook some of the attractions that you have to come to Chicago to enjoy. These places we "locals" too often miss (or forget to bring our kids to!) because we walk by them everyday and don't realize the gems right under our noses. Some of these might exist elsewhere, but we have the good fortune of living just down the tracks from them, so don't miss 'em!
Food:
You can take a tour of various food venues in Chicago, but you can also just pick a couple favorites to enjoy while you are there. Here are some don't miss icons if you want to eat Chicago style.
– Eli's Cheesecake. Tour and taste delicious!
– For pizza, check out Giordano's, Pizzeria Uno, or Gino's East
– Or, sample it all at the Taste of Chicago July 10-14 in Grant Park
Free:
Chicago's Air and Water Show – Coming to the lakefront on August 17th and 18th. We love sneaking a peak the day before the official start. No crowds, and perfect viewing for an amazing show. You never know what you'll get the day before, and most people prefer to go on a day off work. It's definitely a show worth fighting the crowds for though.
Federal Reserve — a recent find of ours. We enjoyed a little field trip to this quiet Money Museum near the Board of Trade. Kids can take their picture in a two dollar bill, design their own, catch the counterfeits, and see a million bucks (in ones, twenties, and hundreds). And, don't forget to grab your free bag of shredded money. As the tour guide said, it's $364 dollars, some assembly required. Be sure all adults entering bring a state issued photo ID for entrance.
Millennium Park — In addition to the "bean" and water play, they have loads of free activities throughout the summer. The best way to get there is the Metra on the weekend. $7 round trip for each adult and a limited number of kids ride free with you. Cheaper than parking in the garage next door. Millennium is an easy one mile walk from the stations.
Fireworks — of course on the Fourth you will find them all over the place, but every Saturday and Wednesday they are free at Navy Pier as well.
Shops — While you might not manage to leave without spending any money, you just have to make it to the American Girl store and the Lego Store are just two of many unforgettable shopping experiences.
Unforgettable:
Chicago has some amazing places that will cost you a little more, but thanks to groupon, coupons, reading incentive programs, and various deal sites you can include these in an affordable family staycation as well

– Brookfield Zoo — Lions and Tigers and Bears, and penguins, and okapi, and giraffes, and wombats. Brookfield has long been a favorite in our family. We even splurged on a family pass this year instead of sticking to the free days. We can easily enjoy a whole day watching the animals and laughing over their antics. The Hamil Family Play Zoo is great for both sunny and inclement weather, so the zoo fits our agenda no matter what. Of course, Lincoln Park Zoo is free, and also worthy of a visit, so take your pick with two great zoo choices.
– Medieval Times — Another overpriced entertainment venue if you go in paying full price, so don't! Summer time they have lots of deals for free dads, grads, half price for everyone, kids in free, etc. (not all at the same time) Sometimes my kids got passes from the library reading program and with the other discounts we got 5 people in for less than $60. Every summer is different, but keep your eyes open if you have not yet enjoyed this dinner theater that only has a few homes across the nation.
– Six Flags Great America — yes, this is almost as bad as Disney in terms of affordability, but if your kids do the Read to Succeed program and you try to get in earlier in the season (before July 4th) you can usually strike a deal. As a child I used to camp out nearby with my family and make a weekend of it. That's when twickets were only a couple bucks, but you can still find affordable ways to enjoy this legendary theme park.
– Tour some of our local attractions for behind the scenes perspectives at places like Wrigley, the Board of Trade, be a trainer for the day at the Shedd,  or other favorites
Further away:
Jelly Belly Factory – not in Chicago, but a fun trip and tour. If you haven't done it before, enjoy it once.
Amish Country in Indiana – another relaxing day trip with a unique backdrop without driving to Ohio or Pennsylvania.
However you decide to spend your summer vacation find something local that you have not enjoyed as a family and set a date to build some memories together. As my oldest approaches college age I see more and more clearly the need to treasure these years that pass so quickly. Enjoy the times together running through the sprinkler in the backyard and roasting marshmallows, and check out local attractions that won't break the bank or require days off work for travel. There is so much around us to enjoy.
What are your local family favorites?